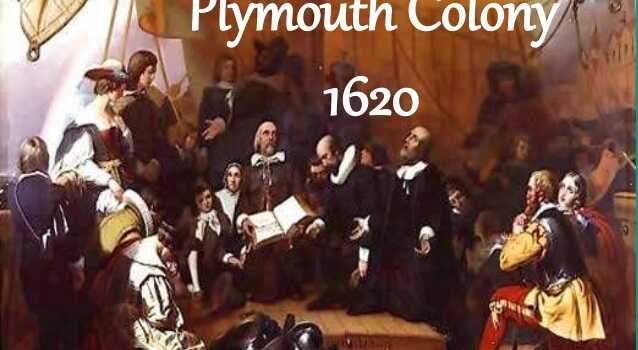 When in the midst of trials and tribulations we do well to take a moment to reflect back to our foundations.  This is no less true of our very American tradition of Thanksgiving Day.  While this day has normally been associated with turkey, family, football and shopping, it is by reflecting on the true history that we can then remember the true purpose and thereby not only cast aside any lingering fears from events around us but also stir up hope and joy in ourselves and those with us.
The history of Thanksgiving Day extends well beyond George Washington or the Pilgrims in Plymouth colony.  It is thoroughly Biblical in origin and comes directly from the Feast of Ingathering seen in Numbers 29:12-40.  In brief, this festival was a celebration of the harvest and bounty God had provided but with elements often missed by the casual reader.  Yes, basic to this festival was this harvest celebration but it also had elements requiring the participants to remember where they came from and how God had protected and provided for them to the present day.  Also critical in this celebration was a ceremony in the temple (during the time of Christ) where there was an outpouring of water, symbolic of the pouring out of the Holy Spirit, followed by the blowing of silver trumpets at dawn which called the people to the gate known as Beautiful, which opened to the court of the Gentiles all the while with their backs to the rising sun (toward the temple instead).  This symbolized the turning away from paganism (sun worship) to the worship of God and His outpouring of the Holy Spirit to the nations of the earth for the Great Harvest of the nations.  So, this celebration was both looking to the past, the present, and decidedly to the future all at once.
With this very brief history of the day in mind, we can easily see how the Pilgrims self consciously applied this festival to the very first Thanksgiving in the year after their arrival.  Remember that the very purpose they came to the New World was to build a "city on a hill" for all the world to see.  There is no mistake that they sought to apply the Bible to their new colony very clearly and very profoundly.  Only revisionist historians try to wipe this fact from history by bypassing the first hand sources from the time.  One such source, Of Plymouth Plantation by William Bradford, details the first Thanksgiving Day, 
They begane now to gather in ye small harvest they had, and to fitte up their houses and dwellings against winter, being all well recovered in health & strenght, and had all things in good plenty; For as some were thus imployed in affairs abroad, others were excersised in fishing, aboute codd, & bass, & other fish, of which yey tooke good store, of which every family had their portion. All ye somer ther was no want. And now begane to come in store of foule, as winter approached, of which this place did abound when they came first (but afterward decreased by degrees). And besids water foule, ther was great store of wild Turkies, of which they tooke many, besids venison, &c. Besids, they had about a peck a meale a weeke to a person, or now since harvest, Indean corn to yt proportion. Which made many afterwards write so largly of their plenty hear to their friends in England, which were not fained, but true reports.
A few more details are available from Edward Winslow,
Our harvest being gotten in, our governour sent foure men on fowling, that so we might after a speciall manner rejoyce together, after we had gathered the fruits of our labours ; they foure in one day killed as much fowle, as with a little helpe beside, served the Company almost a weeke, at which time amongst other Recreations, we exercised our Armes, many of the Indians coming amongst us, and amongst the rest their greatest king Massasoyt, with some ninetie men, whom for three dayes we entertained and feasted, and they went out and killed five Deere, which they brought to the Plantation and bestowed on our Governour, and upon the Captaine and others. And although it be not always so plentifull, as it was at this time with us, yet by the goodness of God, we are so farre from want, that we often wish you partakers of our plentie.
Now, please remember the context of this group: they had MANY difficulties securing passage to the new world where nothing existed for infrastructure: no houses, no business, nothing.  They had a long, arduous journey across the ocean only to land in the wrong place and where more than 50% of the population died the first winter.  How many of us today would have the resolve to face these fears, these conditions, and these trials and still offer up thanks to the Triune God like this?  Again, William Bradford,
May not and ought not the children of these fathers rightly say: "Our fathers were Englishmen which came over this great ocean, and were ready to perish in this wilderness; but they cried unto the Lord, and he heard their voice, and looked on their adversity, etc." Let them therefore praise the Lord, because he is good, and his mercies endure forever. Yea, let them which have been redeemed of the Lord, show how he hath delivered them from the hand of the oppressor. When they wandered in the desert wilderness out of the way, and found no city to dwell in, both hungry, and thirsty, their soul was overwhelmed in them. Let them confess before the Lord his loving kindness, and his wonderful works before the sons of men.
It was George Washington who carried this tradition forward officially in his Thanksgiving declaration of 1789,
Whereas it is the duty of all nations to acknowledge the providence of Almighty God, to obey His will, to be grateful for His benefits, and humbly to implore His protection and favor; and Whereas both Houses of Congress have, by their joint committee, requested me to "recommend to the people of the United States a day of public thanksgiving and prayer, to be observed by acknowledging with grateful hearts the many and signal favors of Almighty God, especially by affording them an opportunity peaceably to establish a form of government for their safety and happiness:"
Now, therefore, I do recommend and assign Thursday, the 26th day of November next to be devoted by the people of these States to the service of that great and glorious Being who is the beneficent author of all the good that was, that is, or that will be; that we may then all unite in rendering unto Him our sincere and humble thanks for His kind care and protection of the people of this country previous to their becoming a nation; for the signal and manifold mercies and the favorable interpositions of His providence in the course and conclusion of the late war; for the great degree of tranquility, union, and plenty which we have since enjoyed; for the peaceable and rational manner in which we have been enable to establish constitutions of government for our safety and happiness, and particularly the national one now lately instituted for the civil and religious liberty with which we are blessed, and the means we have of acquiring and diffusing useful knowledge; and, in general, for all the great and various favors which He has been pleased to confer upon us.
And also that we may then unite in most humbly offering our prayers and supplications to the great Lord and Ruler of Nations and beseech Him to pardon our national and other transgressions; to enable us all, whether in public or private stations, to perform our several and relative duties properly and punctually; to render our National Government a blessing to all the people by constantly being a Government of wise, just, and constitutional laws, discreetly and faithfully executed and obeyed; to protect and guide all sovereigns and nations (especially such as have shown kindness to us), and to bless them with good governments, peace, and concord; to promote the knowledge and practice of true religion and virtue, and the increase of science among them and us; and, generally to grant unto all mankind such a degree of temporal prosperity as He alone knows to be best.
Given under my hand, at the city of New York, the 3d day of October, A.D. 1789.
Again: adversity and deliverance are noted by Washington.  At no point are we promised an easy life.  To the degree that we are faithful it will be blessed but that does not mean a life free of trials and tribulations.  I think all of us can certainly attest to the providences of God in our lives, both in good times and bad. 
With all this in mind, we now face the question: what should we be thankful for?  The easy answer is, of course, everything and we could speak only in generalities but would that suffice?  With all that we have faced in 2020, we certainly have not met the same trials our forefathers met in Plymouth nor have we faced war in our front lawns like Washington.  Indeed, even in the midst of the tyranny we see today none of us can say that we are truly suffering as our forebears.  I am calling on us all to get very specific with our lifting up of thanks.  By doing so, we will reflect truly thought filled, thankful hearts to God and we will stir up a remembrance of all He has done for us which will lift up our hearts and minds.
I would like to begin by expressing my thankfulness for the membership of the NCRCC.  From before my election as chairman and certainly afterwards, I have seen a membership rise to occasion after occasion to serve this community.  That took the form of rallies (which continue!), phone calls before and after election day, door knocking, BBQ's, viewing parties, committee work for voters, and supporting my family and I as we sought to serve the NCRCC.  I am also thankful for the increased awareness of our organization in Nye county which our growing membership records reflect.  While there will be disagreements among us, we can all be thankful for a "seat at the table" to express our views and contribute to solutions for the problems of our day.  I am likewise thankful for the increased presence and participation of our elected officials among us.  We have a mutual need for each other in the days ahead.  
Beyond the NCRCC, I am also thankful for this community and county in which we live.  Please take a moment this Thanksgiving to step outside and just take in the breathtaking beauty of our valley in Pahrump or the more mountainous areas in the northern areas of Nye.  Even more so, I am thankful for a county that is decidedly Red and could not be more of a contrast from our neighboring, more populous county to our east.  I am thankful for how we, as neighbors, seek to help each other when in need despite the distance between us from north to south.  
Regarding our current events, I am thankful that God, in His providence, put Donald J. Trump at the helm of this nation at precisely the time needed to fight against the fraud in our elections.  Rather than simply winning the election (which he has and which will be recognized soon), he is fighting to expose the entirety of the election fraud to ensure that our elections are secure going forward.  Few in the history of our nation have exhibited the level of intelligence and resolve that our current president has demonstrated.  
But even beyond this, I am also thankful for the victories we have experienced in 2020 from a surging economy despite COVID efforts to the most recent court battles recognizing the Constitutional arguments being brought forth against the blatant theft of our election.  So much more could be added here but I have gone long already.
I will also express my undying love and gratitude to God for the wife of my youth, my bride of 25 years for her tireless efforts in supporting me and our family.  I am the man I am because of her.  I praise God for my children and new grandson (born this year) as well as the continued success of gainful employment throughout these crazy months.
Truly, were each of us to reflect on the blessing of God in 2020 we would suddenly see that those blessings outweigh and overtake the challenges we have faced.  So, as you sit before that turkey this year and say grace, take some time with those you are with to share the blessings together.
May the Lord richly bless each of you this Thanksgiving Day.
Chris Zimmerman
Chairman